Exploring, Experimenting and Building Friendships
The school morning for three (and four) year-olds is balanced between outside play time, "home base" time, and "open center" time.
The Three Year Old Program is offered three days a week: Monday, Tuesday and Wednesday, from 9:10 a.m. to noon.
All three and four year old classes join together on our natural, expansive playground daily. The facility contains a wide array of equipment including age-appropriate superstructures, sandbox, bikes, and art easels. On most days, a variety of art supplies are available on the playground for quiet creative play. On some days, other teacher-inspired games or activities, such as nature exploration, are offered.
Children join their respective classes in their rooms after coming inside and washing hands. The students enjoy a family style snack together, clean up and then enjoy circle time or teacher-led group activities such as songs, stories, and conversation in circle. Students share their news and learn to listen to their peers' stories and updates. They learn to care for their friends and respond to the emotions and feelings of others. Caring about yourself and each other is a core principle at SHPS.
The Sleepy Hollow Preschool philosophy of learning through play flourishes in the open center program. During this portion of the day, children are free to move from one room to another and to choose among the various opportunities in each. Teachers guide and encourage the children as they construct their individual experiences. Each unique center offers a range of STEM activities that are consistently available every day. Additional activities vary from day to day based on children's interests as well as seasonal themes and other educational inspiration.
A typical Three's Schedule:
Parent drop-off on the playground

Outside Play: Children are free to choose from a variety of activities from sandboxes to obstacle courses and impromptu mud-pits.

Home Base: Children join their respective classes in their rooms for teacher-led group activities such as songs, stories, and conversation in circle.

Snack: Each co-oping parent provides a nutritious snack for children to enjoy while practicing manners and engaging with one another.

Open Centers: With guidance from their teachers, children are free to move among the classrooms and participate in different projects.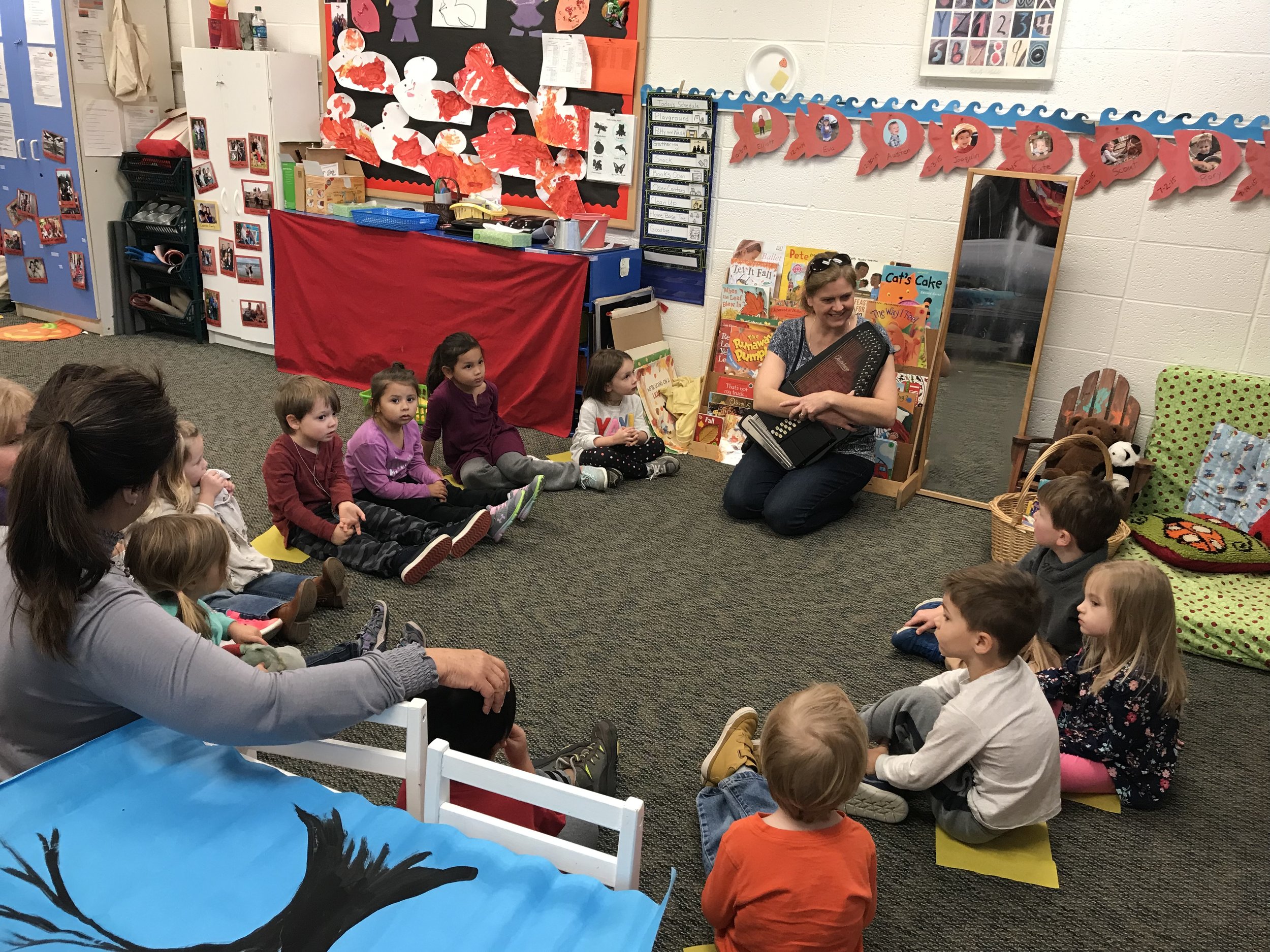 Mrs. Healey's love of music spills into everyday activities in the ladybug classroom. Friends sing while walking down the hall, washing hands, having snack, at gathering time and just for fun. Making music and moving our bodies is a big part of what we do at SHPS. Just wait until your child sings the hand-washing song at home, you will quickly learn it too!
Lets get messy! Art in all forms, paint, stickers, markers, dot-pens, glitter, glittler and more glitter... you name it and we will make art with it! The butterfly room is always a creative space for kids to explore their budding artistic side.
Adult To Child Ratio
Each classroom is staffed by a teacher and a teaching assistant in addition to a co-oping adult. Sleepy Hollow follows (or improves upon) the adult/child ratio as set forth by the National Association for the Education of Young Children. This ratio for three (and four) year-old classes is 1 adult for each 8 children.
Requirements
The birthday cutoff for all classes is September 30, in accordance with the kindergarten entry age of the Fairfax County public school system. Children enrolling in three year old classes must be 3 by September 30.
Students are NOT required to be potty trained at SHPS. Your child will be accommodated, whether he/she is still in diapers, in the midst of toilet training or fully trained.
Communication
At Sleepy Hollow, we believe that good communication makes for a tight-knit and trusting community. All teachers keep in close contact with parents, providing a recap of the day at pick-up time, as well as frequent emails about what the children are learning and enjoying. Parent class representatives also keep the other parents abreast of upcoming school events, meet-up opportunities outside of school and more.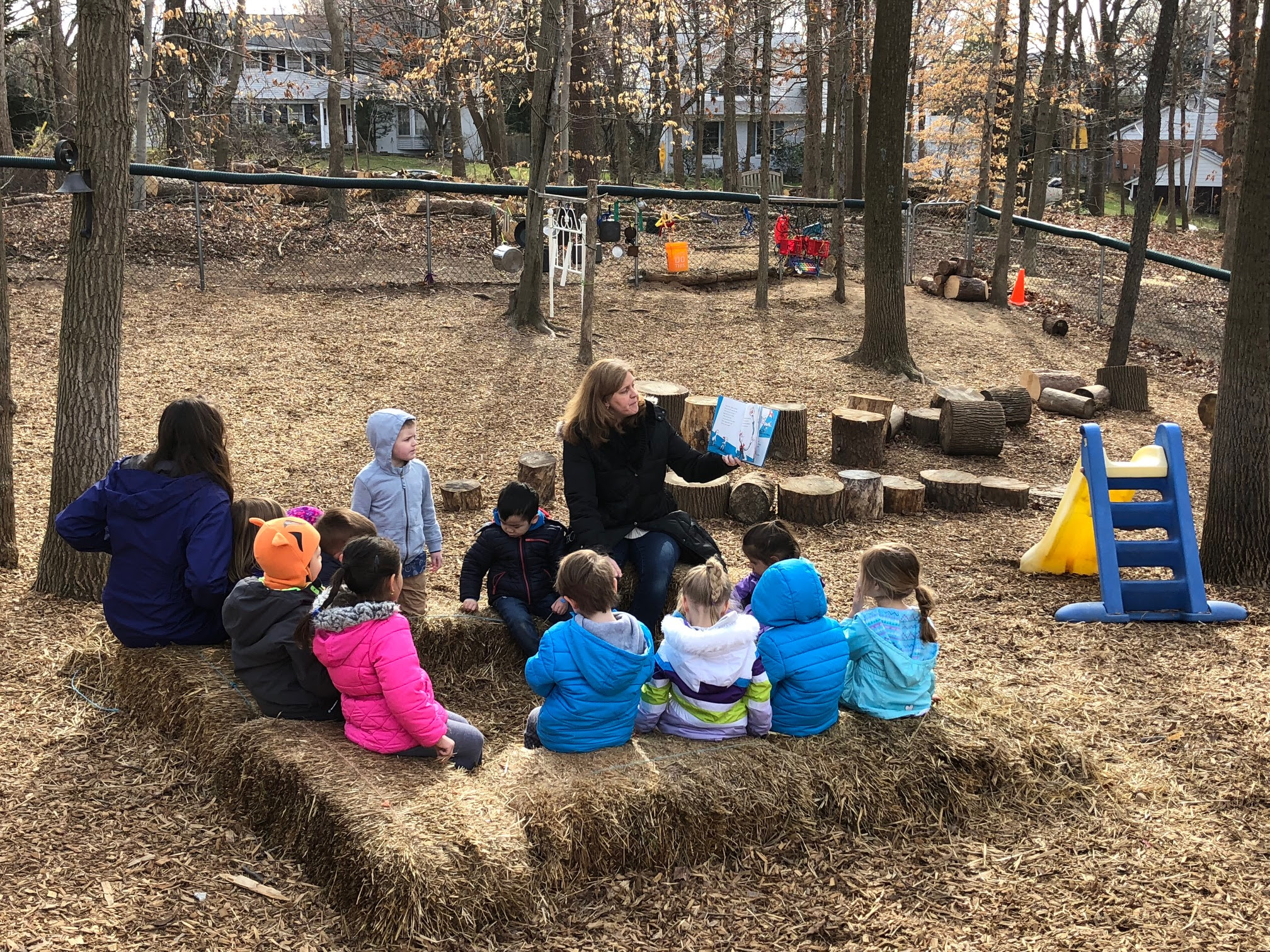 "My favorite part of school was playing with the cars. School has a car wash! I loved that my teachers would build stuff with me!"
-Tucker R., 2017-18 Butterfly